Learn Snowflake from Scratch - The Ultimate Course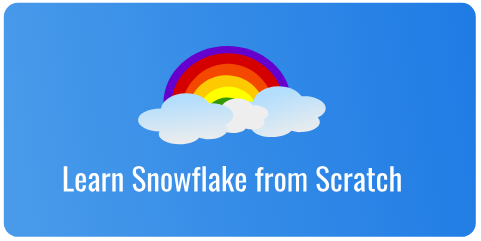 "Learn Snowflake from Scratch" has been the go-to video resource for all cloud data warehouse newcomers. The course has been created step-by-step for any beginner to gradually grasp and get started. I repeatedly refresh the series to ensure that it remains as up-to-date as possible. I hope you enjoy it!
And if you're brand new to Snowflake, you're in for a treat. Snowflake is a joy to work with. If you're willing, I'll teach you everything I know.
Course Index:
Intro
🎬 Episode:1 ⌛ Runtime: 0:53 🎁 Free
Hello and welcome to the course. start here!


Let's tour the snowflake user interface
🎬 Episode:2 ⌛ Runtime: 8:37 🎁 Free
Let's start with the fun part: Touring the user interface. In this lesson, you will get acquainted with the snowflake web user interface and its various options.


Setup the environment
🎬 Episode:3 ⌛ Runtime: 5:34 🎁 Free
We will create the virtual warehouse, database, and the schema



Basics of cloud and saas
🎬 Episode:4 ⌛ Runtime: 5:59 🎁 Free
Understand the basics of cloud and its difference between traditional on-premise data warehouse. Discuss the SAAS model and how its different from regular software



Snowflake Overview
🎬 Episode:5 ⌛ Runtime: 9:29 🎁 Free
Introduction to snowflake and hows it is different from existing solutions available



Install SnowSQL
🎬 Episode:6 ⌛ Runtime: 9:08 🎁 Free
Download, Install, Configure SnowSQL client and query the database



Snowflake Architecture
🎬 Episode:7 ⌛ Runtime: 5:13 🎁 Free
Let us look at the architecture in detail and its benefits



Load Data using SnowSQL
🎬 Episode:8 ⌛ Runtime: 8:09 👪 Membership
Load data from local to snowflake using the snowsql client



Unload Data using SnowSQL
🎬 Episode:9 ⌛ Runtime: 8:35
Export data from snowflake to a file and then unload the file to our local desktop


<This is a Work in progress - I will keep adding more episodes as I create>
Share your thought in the comments